FAMILY AFFAIR: Cousins Continue Grandfather's Legacy in Oil Business
by Valerie Jones
|
Rigzone Staff
|
Friday, May 25, 2018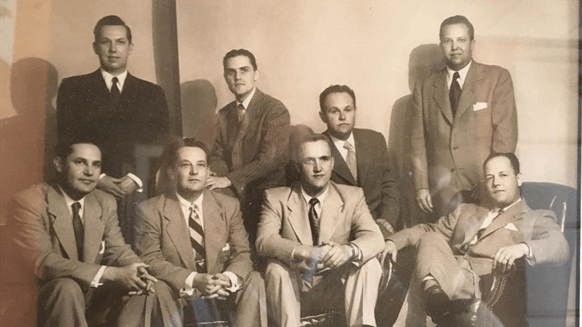 Third-generation oilfield workers share their family history in the business.
Thomas (Tom) Stewart and Robert Stewart both entered in the oil business immediately after college: Tom went to work for his father well tending in 1974 and Robert joined his father as a petroleum engineer in 1984 after a few years working for ExxonMobil in Ventura, California.
The pair's venture into the oilfield was less about circumstance and more about tradition. Tom and Robert are cousins; their fathers both worked in the oilfield and followed in the footsteps of their father, Ed Stewart.
The family legacy began with Ed, who served as president of Stewart Oil Company in the early 1900s, which was devoted to drilling and contracting.
Stewart Oil Company drilled and produced in Michigan, then started drilling in Illinois in the late 1940s, Ohio shortly thereafter and Kansas in the 1950s, Robert explained. It dissolved in 1968.
Ed had eight sons and of the eight, six went on to be in the oil business.
Three of the brothers bought all the siblings' oil interests and formed Stewart Brothers Inc., the successor to Stewart Oil Company.
"Stewart Producers was created in 1951 primarily as an operating company and run by my father," said Robert. "It's the active company that drills, produces and operates oil wells. Stewart Brothers invests in everything that Stewart Producers does."
Robert said his father attributed the family's success to great cooperation between the brothers.
"They all got along well – no sibling rivalries or individual agendas," he said. "Stewart Brothers continues on in the same fashion today, though now it's 'Stewart cousins.'"
Robert's career with Stewart Producers began with him serving as a petroleum engineer searching for reserves to drill or purchase. He assumed the role as president in 1990, a position he still holds today.
Robert began his career working with his father at Stewart Producers as a petroleum engineer.
"When the price of oil started moving upward a bit in 2004 and 2005, we started getting a little more aggressive. In the last 10 or 12 years, we've done much more active drilling for oil," Robert said.
As for Tom, he describes himself as a "fracking baby" because his father moved back to his home state of Ohio during the time when the process of hydraulic fracturing was revolutionary.
"The only reason we moved when I was a toddler was because of hydraulic fracturing," he said. "Some people told me he may have been one of the first in the state of Ohio to actually use water instead of gelled crude oil to fracture the well."
When Tom began working for his dad at Stewart Drilling, he was given a pickup truck and told to go out and roustabout, take care of the wells and learn the business. He did.
"My dad had a small family business. He did most of it on his own with few employees," said Tom. "He went at his own pace. His goal wasn't to become a big producer. His goal was to establish a small base of reserves and develop it."
Tom learned this quickly.
"When I came to work for him, I went out and contracted some rotary rigs to drill wells and he gave me hell. He said 'you're in too much of a rush. Why do you have to drill your well in three days?'" he said. "He comes from the old business philosophy 'do your business quietly and honestly.' I remember him telling me, 'Tom, 95 percent of the oil business is reputation … five percent is finding oil.'"
Different Paths
Because Robert and Tom are third-generation oilfield workers, one would wonder if they ever wanted to work in any other field – or if that was even an option.
"I thought I was going to be a doctor. I started off studying pre-med and I was going to also major in chemistry," said Robert.
Robert attended a small liberal arts college in Ohio – the same college that many of his uncles, cousins and their children attended. There's even a science building named after his uncle.
"I realized my junior year that I was not as good at that kind of science as I was at math and physics, so I changed my major and went into engineering," he said.
Robert studied mechanical engineering at the University of Illinois for a couple of years, and then decided what he really wanted to do was go into the oil business.
"I loved it. I always did, I just didn't think it was that cool at the time to do what everyone else had done," he said.
Tom was already working in the industry when he became interested in the policy and legislation side of the business.
"In the late 70s and early 80s, the oil and gas industry really came into focus on environmental issues … it did need some scrutiny and there were some practices common at the time that we would find very disturbing today," Tom said.
He initially become involved with the Ohio Oil and Gas Association (OOGA) in 1985 simply volunteering his time. This was when the OOGA was engaged in House Bill 501, the first significant legislative battle in Ohio related to environmental policy and oil and gas development. He was eventually elected to the OOGA Board of Trustees.
During the oil collapse in the late 80s, Tom was still involved in drilling wells.
"It was a very difficult time," he said.
In 1991, Tom became executive vice president of the OOGA, a position he held until he retired in 2014.
"It was a great opportunity to be involved in a part of the industry that not many are," he said.
Though his dad would've preferred Tom remained in the office working with him, Tom said he's glad he made the switch.
"I never really considered doing anything other than oil and gas. With the OOGA, I was in the industry from a different perspective," he said. "Growing up in the business, being in the business and then going to be their advocate in the association worked out really well for me."
After his tenure with the OOGA, Tom went on to start his own company – Oilfield Policy Advisors LLC, a consulting firm for people who have questions or issues related to oil and gas in the state of Ohio.
Continuing the Legacy
Robert, who has served on the Illinois Oil and Gas Association Board of Directors for 30 years, said it feels good to carry on his family's legacy and expressed great pride for his father and grandfather and the accomplishments they have in the oil and gas industry.
Tom shared the same pride when speaking of his family.
"It's a different lifestyle being a small independent oil and gas producer. I look at many of the people today in these large corporations and most of them have not stared down a hole in the ground and wondered whether their personal economic success is at the bottom of that hole," he said. "My dad, his brothers … they stared down a lot of those holes and they know what it's like."
And the family legacy…
"It means everything to me," Tom said. "When I first went to work for the OOGA, one of the patriarchs of the industry asked me what I wanted to get out of this. My answer was that I simply wanted to be listed in the Hall of Fame right next to my father. I wanted to do a good enough job that they put me in the Hall of Fame next to him and they did."
Generated by readers, the comments included herein do not reflect the views and opinions of Rigzone. All comments are subject to editorial review. Off-topic, inappropriate or insulting comments will be removed.