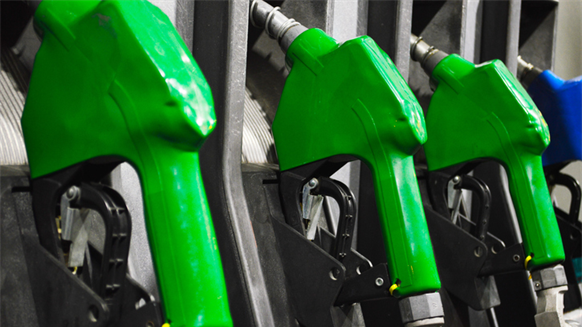 "Diesel's future has been relegated back to what it was about 20 years ago -- an engine choice for pickup trucks," said Dave Sullivan, an industry analyst with consultancy AutoPacific Inc.
(Bloomberg) -- Mercedes-Benz's decision to pause its U.S. diesel plans represents another blow to the technology's already small and diminishing share of auto sales in the country.
Daimler AG's luxury car brand cited the tiny share of the market diesels occupy and the "increased effort" needed to obtain approvals from U.S. environmental regulators as the reasons why it halted efforts to obtain certification to sell 2017 model year diesel versions of its C-Class sedan, GLE SUV and other cars. It said it may return to the market in the future.
The explanation highlights the mounting struggle for automakers in the U.S. trying to sell diesels, a technology once prized for fuel efficiency and seen as a promising way to meet federal standards. The outlook is now growing cloudier as scrutiny from the Environmental Protection Agency keeps models off the market and the costs rise to meet toughening pollution rules. Mercedes says that fewer than one out of every 100 cars sold in the U.S. is a diesel.
"Diesel's future has been relegated back to what it was about 20 years ago -- an engine choice for pickup trucks," said Dave Sullivan, an industry analyst with consultancy AutoPacific Inc.
The future is not much brighter in Europe, where favorable tax treatment has helped the technology gain dominance. Diesel demand is projected to shrink to around 30 percent of the region's auto sales by 2020 from around 50 percent today.
Worldwide, diesel market share is projected to fall to 4 percent by 2025 from 13.5 percent today according to a December 2016 report by UBS Group.
While diesels have long held a niche role in the U.S. auto market, it is fading fast. Just 28,604 diesels were sold in the U.S. this year through April, down 35 percent from the prior-year period, according to data from HybridCars.com. Automakers are also offering fewer diesel models in the U.S. than they were just two years ago, in large part due to growing demands from regulators.
Nine diesel models are available from five auto brands for the 2017 model year in the U.S., according to the EPA. That compares to 22 models from 8 brands in model year 2015.
Much of the decline in sales and choice stems from the scandal at Volkswagen AG, which pulled 12 diesel models sold by its Audi, Porsche and namesake VW brand off the market after it admitted in 2015 that it had been cheating to pass emissions tests in the U.S.
That was a big change in strategy for VW, which had invested heavily in diesel. From 2009 through 2015, Volkswagen made high-torque, fuel-sipping "clean diesel" engines a pillar of its U.S. brand identity, deploying them widely across its lineup as a fun-to-drive alternative to sluggish gasoline-electric hybrids.
That strategy has been all but abandoned in the wake of its emissions scandal. The company won't offer new diesel models through at least the 2018 model year and if VW eventually does bring diesels stateside once again, company executives have said the engines are unlikely to be used as widely as before.
After VW admitted cheating, the EPA began subjecting all diesel passenger cars to a new battery of tests designed to ensure there was no other wrongdoing elsewhere in the industry.
The tests led EPA to accuse Fiat Chrysler Automobiles NV in January of installing diesel Jeep SUVs and Ram pickups with emission controls without the proper disclosures. The agency has since refused to certify that Fiat Chrysler's diesel Jeep Grand Cherokee and Ram 1500 pickup variants conform to U.S. tailpipe rules amid talks with the company to resolve the issues.
Daimler had been working for months to get its diesels approved by EPA, but put that process on hold as the 2017 model year enters its final months.
1
2
View Full Article
Copyright 2017 Bloomberg News.
WHAT DO YOU THINK?
Generated by readers, the comments included herein do not reflect the views and opinions of Rigzone. All comments are subject to editorial review. Off-topic, inappropriate or insulting comments will be removed.